Fat Free Skillet Home Fries
KateL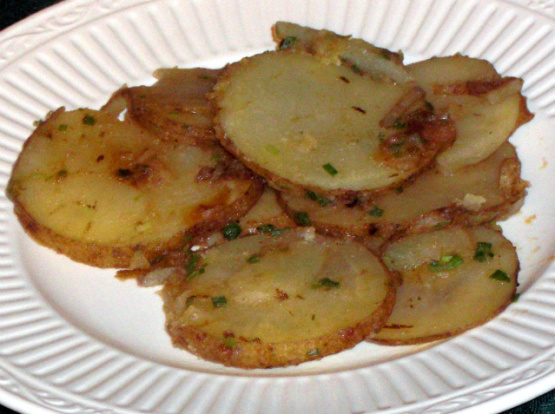 I love home fries but can't have them on my diet because they are fried. So, when I saw this recipe in the 'Eat Up, Slim Down' cookbook put out by Prevention magazine I wanted to put it here so I had it the next time the mood strikes.

I followed this recipe exactly. The homefries were DELICIOUS! My mother and I both thought they tasted a bit like pot roast, which is EXACTLY WHY I WILL BE MAKING THEM AGAIN. Thanks for a great recipe!
In a large, heavy nonstick skillet, heat 1/2 cup broth to boiling.
Add potatoes, scallions, onion salt, garlic powder, sage, pepper and paprika.
Cover and cook over high heat 5 minutes, or until liquid is absorbed, turning potatoes occasionally.
Reduce heat to low and cook 10 minutes, adding broth as needed until potatoes are tender and browned.