Fat Free Ginger Molasses Pancakes
loof751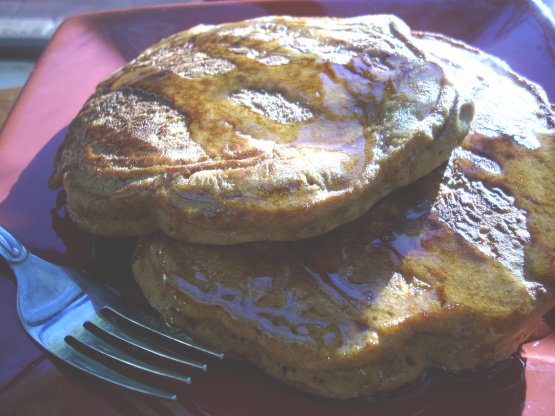 A nice pancake from Sarah Schlesinger's "500 Fat Free Recipes." These are good with chunky cinnamon applesauce on top!

A nice change from regular pancakes. I loved the gingersnap flavour. I found they got a little dark - might try a lower temperature next time. Delicious with good old maple syrup. Might try spreading them with apple butter sometime. A great recipe to add to my Weight Watchers repertoire!
Mix the flour, baking powder, cinnamon, ginger and cloves into a bowl.
Stir in the milk, apple butter, and molasses.
In another bowl, beat the egg whites with a mixer until stiff.
Gently fold the egg whites into the batter.
Using about 1/4 cup, put the batter onto a non-stick griddle or a pan sprayed with non-stick spray.
Flip them when the top is covered with bubbles and they are starting to brown on the edges.
Cook for about 2 more minutes or until they are brown.