Fat Free Frozen Yogurt Mousse
Really easy fat free dessert. The longer you process it, the bigger it gets! The yogurt needs to be completely frozen. Experiment with different flavors.
6 ounces fat-free peach yogurt (frozen)
1⁄2 cup skim milk
Directions
Put the milk and the frozen container of yogurt into a food processor.
Process for 3 minutes or until all of the yogurt is combined with the milk.
Most Helpful
This was great! I really wanted something like frozen yogurt - sans all the carbs - and this fit the bill. I used 1/2 cup unsweetened vanilla almond milk and it worked perfectly. I have to give this one four stars, though, because it was a little hard to get the yogurt out of the container once it had frozen solid. Perhaps there should be a direction added to run some hot water on the container to help get the yogurt out? Also, I had kind of a hard time getting the frozen yogurt to get sucked into my food processor blades, if that makes any sense. I may try this in the blender next time. Thanks for a great dessert! I know I'll be making this again and again. :)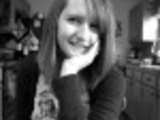 This is an excellent treat. I'm trying to stay away from ice cream (I eat way too much) and this is a great substitute as I always have yogurt on hand. I didn't have peach yogurt, but did have key lime so that is what I used. Made for Let's Party Tag ~ Winter 2009.