Fat Free Fresh Tropical Fruit Salad
Shari2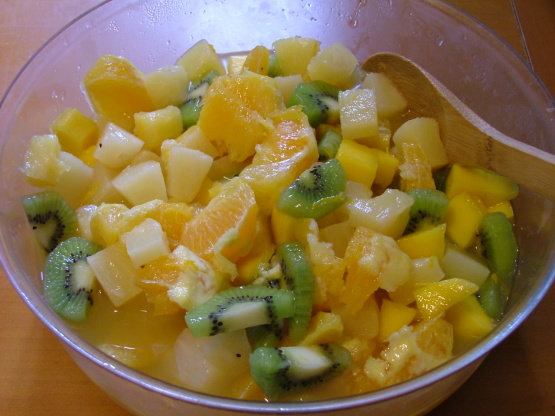 2 (20-ounce) cans pineapple chunks with 3/4 cup reserved juice, can be used in place of the fresh pineapple and the pineapple juice. Papayas can be used in place of mangoes, or use both! Plan ahead this needs to chill for 8 hours before using.
1

small fresh pineapple (peeled, cored and diced)
3⁄4 cup pineapple juice (can use less)

3 -4

tablespoons honey
1⁄2 cup fresh lime juice

1

teaspoon grated orange rind

6

medium oranges, peeled and sliced

4

kiwi fruits, peeled, halved and sliced

1

large mango, peeled and cubed (can use 2 mangoes)
In a large glass bowl stir all ingredients together; cover and chill for 8 hours (tossing the fruit occasionally in the juice) before serving.
Adjust sweetness to taste.