Fat Free Chocolate Muffins
Rachie P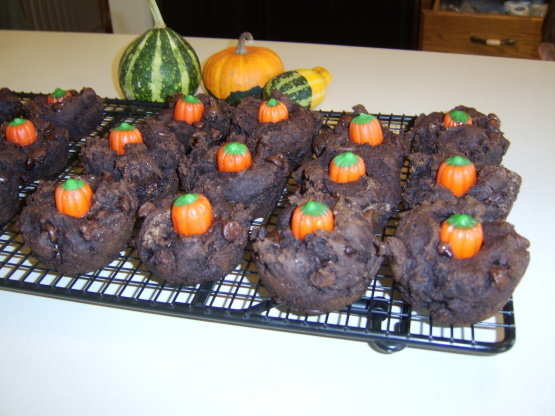 A wonderfully moist fat free chocolate muffin, and a sneaky way to get that nutritious beta carotene! My kids have no idea they are eating pumpkin! They actually ask for these babies. The pudding mix is optional, it adds some sweetness and moistness, but you don't need it. The addition will add to your baking time 5-10 minutes.

Very good. I had to double the sugar and add almost a half cup of oil to get a good consistency and I had to double the baking time. These came out wonderfully and I am most certainly making them again. :D
Spray muffin pans with non-stick coating.
Mix all ingredients together.You will need to use an ELECTRIC MIXER, the batter is very dry, like brownie batter, KEEP MIXING it WILL mix together. DO NOT ADD EGGS OR MILK.
Baking soda is your leavening agent, and pumpkin sbstitutes your fats (much like applesauce does).
Bake at 350°F for 15 minutes, for regular muffin pans, 20 minutes for jumbo pans. Test with a toothpick to see if they are done.