Directions
Preheat oven to 350 degrees F.
Spray 1-1/2 quart baking dish with cooking spray.
Combine bread, raisins and apples in a large bowl.
Add milk and sugar; mix well.
Pour mixture into baking dish.
Let stand for 20 to 30 minute.
Beat egg whites until foamy.
Add vanilla and cinnamon to egg whites, mix well.
Pour egg mixture over bread in baking pan.
Bake uncovered for 45 minutes to 1 hour until set and lightly browned.
Most Helpful
This is quite a good recipe. A few changes I made (and would recommend) 1) I used fat free evaporated milk instead of skim milk. It lends a richer taste to a dish like this. I also used about 1.5 cups, rather than the 2 cups mentioned in this recipe. That was plenty of liquid for the bread pudding. 2) I used a full teaspoon of cinnamon and added a teaspoon of freshly ground nutmeg as well. 3) I added 2 tablespoons of butter. Don't gasp - 2 tablespoons of butter spread over 10 servings is still very low fat. Just 2 T of butter adds a lot of flavor to this.

I wasn't sure I'd like this as I can be funny about bread pudding, but it was delicious! The cooked apples were soft and tender, which worked well with the juicy raisins. The milk mixture absorbed into the bread well. I'm not sure what the egg whites were for as they seemed to sit on top, but apart from that, this was lovely.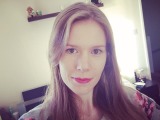 Just checking.... Bread is NOT fat free people! Check which bread you use before making such a statement!