Fast Tomatoes With Basil and Balsamic
gailanng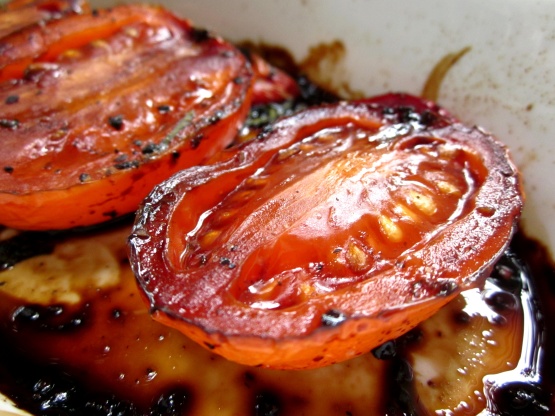 If you love tomatoes like I do, then you may enjoy this recipe. It's a quick side dish/plate filler that doesn't have too many ingredients, it's healthy and tastes nice. Original recipe calls for Roma and Plum tomatoes but I use what is in season. This recipe comes from a book called "Purely Golden Door" by The Golden Door Health Retreats.

I had some hard "bullet" tomatoes, and this really made them tasty! I cut them in half, salt and peppered, then put them cut side down in a frypan with a little butter. I added the balsamic, then slid them on top of the fresh basil and put them in the oven. I baked them slowly for about an hour, (the men were late :) wonderful side dish with bacon and eggs! Aussie swap May2010
Preheat the oven at 180oC/350oF/Gas 4.
Place tomatoes on oven tray with the cut side facing down.
Dash over the balsamic vinegar, basil, salt, black pepper to taste.
Bake for about 15 minutes for semi firm (still holding shape) and 30 minutes for well done (extra soft).