FAST NO Dairy Baked Potatoes "sour Cream"/Chive
bamedeo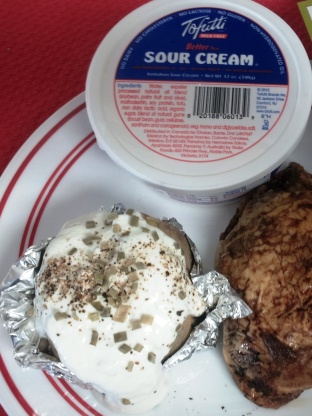 vegan/Kosher-Pareve/gluten free/dairy free With keeping Kosher and being on Weight Watchers I have come to enjoy preparing healthy meals.
Using a fork poke some holes in the potatoes and microwave for 15 minutes.
Turn over and microwave for another 5 minutes. Squeeze gently using a potholder to test for doneness. Time may vary depending on wattage of oven.
While potatoes are cooking prepared 'sour cream' and chive mix in a bowl. Add all ingredients and blend.
When potatoes are done slit down the middle and press in from the sides to burst them open.
Scoop in 2 tablespoons per potato of Tofu/chive mix, grind fresh pepper on top and enjoy!