Fast' N' Tasty Mini Meatloaves
Dorel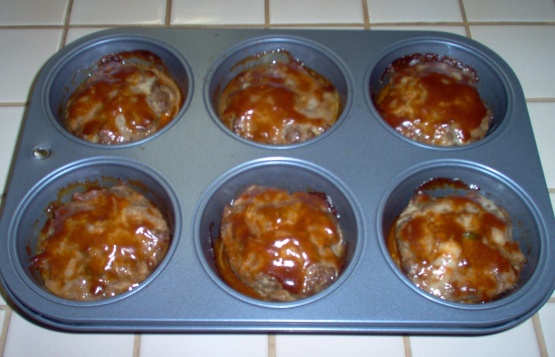 I made these and used about 1 1/2 pounds meat. Divided it into 6 large size muffin cups. Also used a grated carrot as suggested by a reviewer. Baked for about 20 minutes.

One of the tastiest meatloaf recipes I've ever tried. The wheat germ adds a wonderful texture and taste. I was hesitant at first of adding the wheat germ, thinking it wouldn't soften enough, but the end result was perfect. I substituted a small carrot grated and zucchini, also grated for the green onion because I only like green onions raw. (Also did that for color).Then I added 1/2 cup of minced onion in place of green onion. The loaves I placed in individual throw away foil loaf pans. Because the meatloaf was divided up in this manner, I think the result was more flavorful and less dry or dense, as many meatloaf recipes in my opinion are, if baked as one large loaf. The BBQ sauce was added to the top of each loaf the last 10 minutes or so of baking time. Served with garlic mashed potatoes and a fresh garden salad which made for a very delicious meal! Thanks for sharing. CG
Heat oven to 350°.
In medium bowl, combine beef, wheat germ, 1/4 cup barbecue sauce, green onions, egg, salt and pepper.
Mix lightly but thoroughly. Shape into four individual loaves.
Arange in 9-inch square baking pan.
Bake 30 minutes or until centers of meat loaf are no longer pink (160°F).
Spoon remaining 1/4 cup sauce over tops of meat loaves.