Ceezie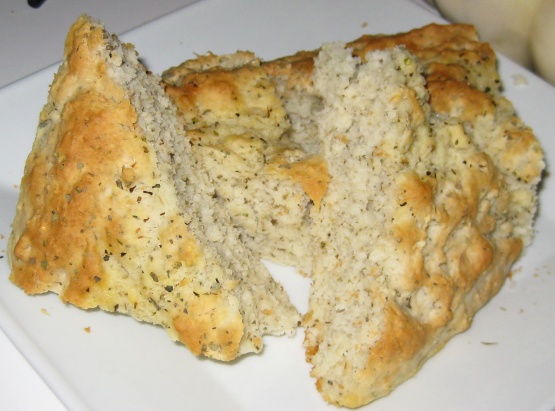 This is from the 4 Ingredient Cookbook

The texture wasn't very focaccia-like, but this made a very nice accompaniment to a summer meal. I used far less Italian seasoning than called for, instead choosing to add garlic salt and garlic pepper since we didn't have garlic-flavored olive oil. I also added some shaved Parmesan. I will definitely make this again.
Reserve 1 teaspoon seasoning in small cup. Put remaining seasoning into large bowl. Add biscuit mix. Stir. Make a well in centre.
Add milk to well. Stir until just moistened.
Brush 9 x 9 inch pan with 1 tablespoon olive oil. Press dough into pan. Poke indentations on surface of dough with fingers. Drizzle remaining olive oil over dough. Sprinkle with reserved seasoning.
Bake in 400ºF oven for about 25 minutes until golden, and wooden pick inserted in centre comes out clean. Let stand in pan for 15 minutes. Cut into 4 squares. Cut squares in half diagonally, for a total of 8 triangles.