Fast & Easy Eggless Meatloaf
Saralaya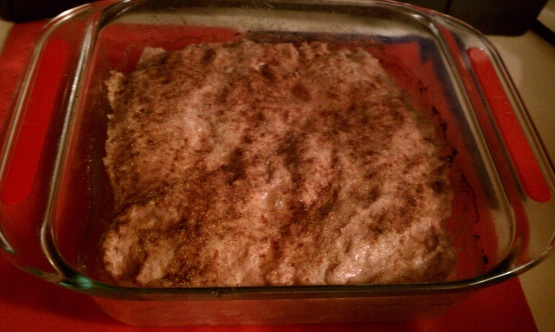 I use ground turkey instead of ground beef. (You do need to use the dark meat turkey, the white meat ground turkey is too dry). Instead of bread crumbs I use potato flakes, makes it lighter. Instead of eggs I use prepared bottled salad dressing (even the low-fat type will work).

This looks like an excellent, delicious recipe, but I just wanted to make note of the fact that it is not TRULY "eggless". As a mother of a egg allergy child, I know that your common store bought italian dressing (Wishbone for example) still has egg yolks in it. However, I'm sure most people aren't aware of that. So, I just wanted to make sure to alert people who might be cooking this recipe for someone who can not eat eggs. It looks like a great, easy recipe, though!
2

lbs ground turkey
1⁄2 cup potato flakes
1⁄4-1⁄2 cup Italian salad dressing
Preheat oven to 350°F.
In a large bowl, put ground turkey, potato flakes ( other spices if desired) and starting with 1/4 cup salad dressing, mix together until it holds its shape and all the potato flakes are well mixed.Add the additional 1/4 cup salad dressing if needed.
Put the mixture in a pan; I use an 8x8-inch square pan.
Bake uncovered at 350°F until done, about 35 minutes.
(I sprinkle some paprika on the top before baking to add some color).