Fast Creamy Baked Apples - Fat Free
DuChick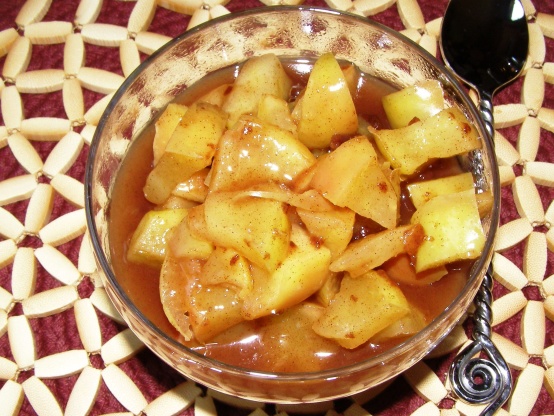 Apples are so good for you and make a wonderful dessert or even breakfast. This one is somewhere in between and best of all it doesn't have any fat! Can be ready start to finish in under 10 minutes - made in the microwave and can be easily scaled up or down for the number of people you're serving. If your looking to make this more dessert-like, include the optional toppings! WW points w/out optional ingredients = 1

Top Review by helowy
Used regular sugar instead of Splenda, but otherwise stuck to the recipe. Used Fuji apples, unpeeled. I tripled the recipe and just cooked it a bit longer. Super quick and easy and basically a guilt free dessert :) Everyone but Mr. Picky enjoyed it. Made for ZWT6-Whine and Cheese.
Using a small to medium sized microwave-proof bowl (with lid if you have one), combine Splenda, cornstarch and cinnamon.
Add 1/3 cup of cold water & vanilla, and whisk until blended. Add diced apple coat them with the cinnamon mixture.
Cover the dish and microwave for 2 1/2 minutes - apples should appear translucent and be soft, but not be wrinkled. Microwave temperatures vary, so keep an eye on them.
Leaving the lid on the bowl, allow sauce to thicken on counter or in microwave and cool for a couple of minutes.
Enjoy fat-free apple dessert OR top with granola, cool whip and sprinkle with cinnamon if desired!