Fast and Easy Pita Pizza in Less Than 10 Minutes!
Teffapio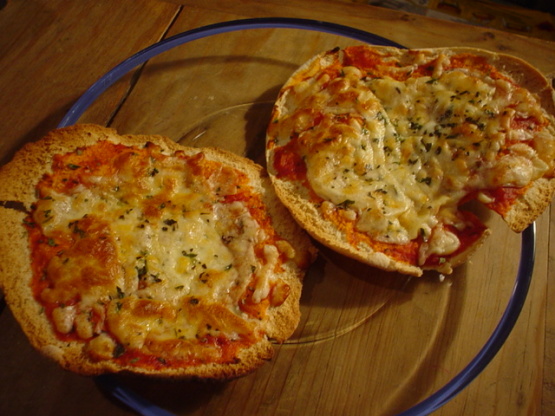 My mom used to make these when I was growing up and we always loved "pita pizza night". This is a super quick and easy way to take care of that pizza craving! Great for a quick lunch or snack. Kids love it!
1

piece pita bread (white or whole wheat)
store-bought jar your favorite sauce (spaghetti or pizza)
shredded mozzarella cheese (part-skim or whole milk)
your favorite Italian spices (garlic powder, oregano, basil, parsley, etc.)
ok ready? here's the "hard" part.
Pre-heat oven to 350 degrees.
Split open the pita bread to make two flat round halves.
Spread spaghetti/pizza sauce with a spoon. Drop the sauce with the spoon and use the flat back-end of the spoon to spread.
Spread mozzarella cheese on top.
Dash of your favorite spices.
Cook 5-7 minutes, depending on how toasty you want the bread.
Enjoy!