Fast and Easy Mexican Scrambled Eggs
ImPat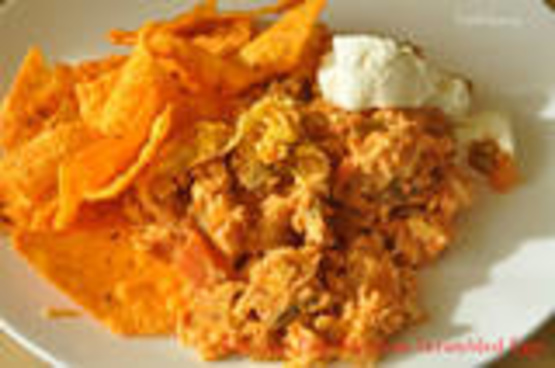 Huevos Revueltos make a very quick and very tasty dish for any time of the day or evening. Serve with toast, roll them up in a tortilla, make scrambled egg tacos with cheese on top. Any way you serve them, they are yummy.

I used Mrs. Renfro's Gourmet Jalapeno Green Salsa, but discovered I had no sour cream. So I sprinkled a bit of shredded mexican cheese blend on top. My salsa was quite hot, and the cheese helped offset it a bit. I agree with Starrynews that this would be an excellent tortilla filling to make this a "to-go" meal. Thanks for sharing! Made for Newest tag game.
1

cup salsa, de chile verde (Green Chile Sauce)

6

slightly beaten eggs
sour cream (to taste, for topping)
salt and pepper
In a 10-inch skillet heat Salsa de Chile Verde over medium heat until bubbly.
Pour beaten eggs over sauce in skillet.
Cook without stirring over low head for 1 to 1 1/2 minutes or until mixture begins to set on bottom.
Lift and fold eggs with spatula so uncooked part runs to bottom.
Continue lifting and folding about 5 minutes more till eggs are cooked through, but still glossy and moist.
Pass sour cream to spoon on top.