Fast and Easy Kfc Cole Slaw
loof751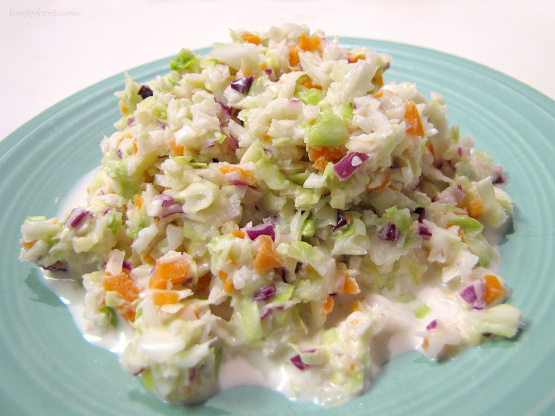 i found this recipe at top secret recipes and everyone loves it! they have 2 versions, this was made from the fat-free version although i have been too afraid to actually use the fat free miracle whip. i just used this recipe because the list of ingredients is so short compared to the other version and it tastes perfect everytime i make it. i have shared this recipe with many friends and family members.

Yummy coleslaw! I took your shortcut and bought the bagged preshredded coleslaw mix and just whizzed it in the food processor for a few seconds to chop it more finely. I thought the Miracle Whip added a nice zip although I did use just a little less sugar. Thanks for sharing your recipe!
Combine miracle whip with sugar in a large bowl.
Mix well with electric beater until sugar is dissolved.
Add cabbage, carrot and onion mixture and toss well. (be sure the cabbage and carrot are chopped into very small pieces, about the size of rice.)
Cover and chill at least 2 hours, preferably over night, before serving. To make things even easier i usually just buy the pre packaged cole slaw bags in the produce dept. they have the carrots and cabbage already chopped. i just chop them up smaller and use that instead of cutting up my own fresh ingredients.