Thorsten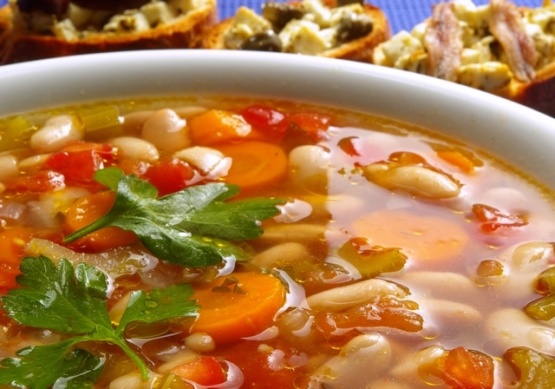 A basic, homey, simple soup. According to food historians, fassolatha (pronounced fah-so-LAH-thah) has been around since ancient Greek times. It is the national dish of Greece, representing the best of the Greek way of cooking: legumes, vegetables, herbs, and olive oil. Serving suggestions: Serve Fassolatha with a side of feta cheese sprinkled with pepper and oregano and doused in olive oil, crusty bread, black olives, and salty dishes like anchovies, smoked herring, or others of your choice.

I think there is something wrong with this recipe also noted by several other reviews. I expect the white beans are meant to be soaked 12 hours and not 24, as like others, my beans broke apart in the specified cooking time. I don't think the cooking time is off. Also the amount of pepper is too much and I don't think that is our preference. So add to taste. I followed the recipe exactly except did not serve it with chopped parsley. The taste was good but to peppery yet I used less freshly ground black pepper. Made for Ramadan Tag 2010.
Rinse beans, soak for 24 hours and drain.
Place drained beans and bay leaves in a large soup pot with 8 cups of water. Bring to a boil, reduce heat to low and simmer for 2 hours. Remove bay leaves.
Add carrots, onion, celery, and simmer for 30 minutes longer.
Add tomatoes, salt, pepper, and olive oil, and cook for 30 minutes. The beans should be soft and creamy, but not to the point of disintegrating.
Remove from heat, season to taste, and serve in bowls, drizzled with olive oil and sprinkled with chopped parsley. Fassolatha bean soup is served warm or at room temperature.