Farshirovannye Yaytsa (Stuffed Eggs)
Derf2440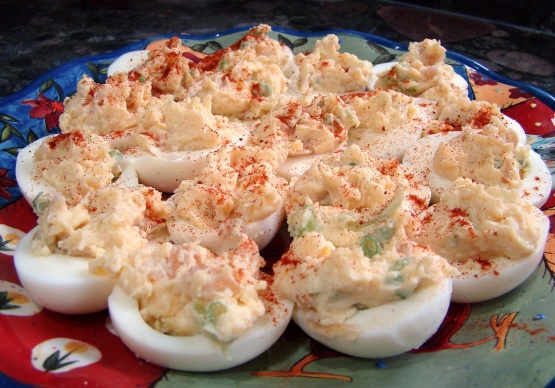 This zakuski recipe is traditional Russian.

Very tasty stuffed eggs, we loved the dry mustard in them, a lovely zing!! I used fat free mayo and home made pickled baby onions, also sprinkled a little Hungarian paprika over them. they were wonderful and enjoyed by all. Thanks for posting I will be making these again.
Peel the eggs and cut inhalf. Carefully remove the yolks and crush well.
Mix with mayonaisse, mustard, pickles and scallions and season with salt and pepper.
Using a spoon, fill the egg halves with the mixture, arrange on lettuce leaves, chill and garnish with capers and pickled red bell peppers before serving.