3 Reviews
FABULOUS, Rita! Love it. So easy. So flavorful. Perfect side dish to just about anything! I am going to eat it luke warm for lunch and then serve it warmed up a bit to hubby for dinner as a side to a veggie burger! I left out the cucumber, only because I didn't have any. . .otherwise made recipe spot on! Made as a recipenap for Veg*n Tag December 2009. UPDATE: I made this delightful recipe today, leaving off the cheese and adding Kalamata olives to replace that zing. Perfect Vegan dish for this Ash Wednesday!

Have made this salad several times now and it is the one everyone asks me to make for dinners and events now. In a pinch I have used the Kraft Fig Balsamic Salad dressing when I could not find the fig balsamic vinegar and it was equally as good.
LOVED this! I used spelt instead of farro, which may be farro, but I'm not sure. It was chewy and nutty like farro. The pine nuts helped bring out the nuttiness. Just the right amount of spices. I did add some red pepper flakes. I also added half a chopped orange pepper because I had leftover in the fridge. Beautiful and colorful salad. I will add to my favorites and make this again. Thanks Rita!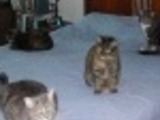 Farro Salad