Farro Flavored With Orange and Smoked Paprika
Rita1652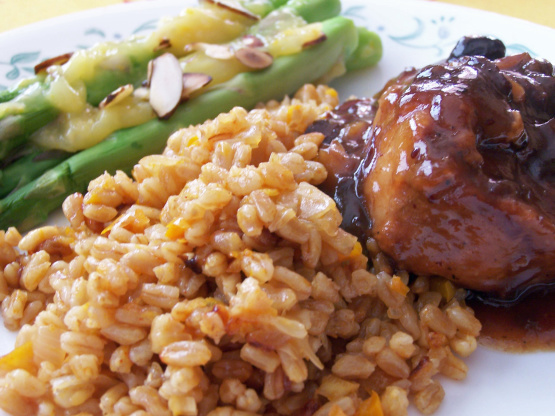 Tired of rice as a side dish, try farro a nuttier, chewier, just all around more interesting choice! Once you have it you'll make it often. May be the oldest cultivated grain, farro (Triticum dicoccum) or Emmer wheat is still widely used in Italy. Farro is lower in gluten and may actually be tolerated in people with gluten intolerance's (if you do have a true gluten allergy, you also want to avoid farro). Farro is high in protein – up to 20% - and also a good source of B vitamins

I love farro, and the orange and smoked paprika here are great flavors with it. The only thing I thought was missing was salt- I felt adding salt helped bridge the sweetness and bitterness (the marmalade I use includes peels and has a nice bitter edge to it).
In a medium high heat pot stove top or a rice cooker set on add oil when hot add onions, peppers, and garlic stirring for 3 minutes. Add remaining ingredients.
Cook stove top 20-30 minutes. Cooking in ricer cook according to directions.
When done stir and fluff.
Enjoy garnished with an orange slice.