Farmhouse Hash With Poached Eggs
loof751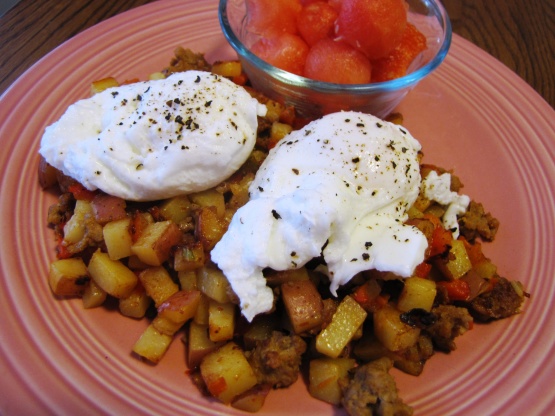 This is easy,cheap and very tasty, can't get better than that! You can use any type of sausage you prefer. I also nuke the potatoes for about 2-3 minutes, then cut up, before adding to the mix. Use any spices or herbs you want, I love it with fresh rosemary. I usually poach my eggs in a skillet, sprayed with Pam before adding the water, but use which ever method works for you. This is adapted from Food Network, 2009.

Loved this great recipe! I don't care for onion so used some red bell pepper instead; I also used turkey sausage. I've never poached an egg like this before but they came out great. Hearty and delicious, served this as "breakfast-for-dinner" and really enjoyed - thanks for sharing the recipe!
Heat the oil in a large skillet over medium heat.
Add onions, carrots, celery, potatoes, sausage, paprika, garlic, red pepper flakes,and salt and pepper, to taste.
Saute stirring frequently, until the potatoes and carrots are tender, and the sausage is cooked through, about 12 minutes.
Bring a medium pot of water to a simmer over low heat and add the vinegar. Crack an egg into a small bowl and carefully slide it into the simmering water. Quickly repeat with remaining eggs.
Using a slotted spoon, carefully corral the white of each egg around its yolk. Poach the eggs until the whites are firm, or to the desired degree of doneness, about 3 to 5 minutes.
Divide the hash among 4 serving plates and top the hash with a poached egg. Season with salt and pepper, to taste, and serve.