Farmhouse Fresh: Orange - Rhubarb Pie
mliss29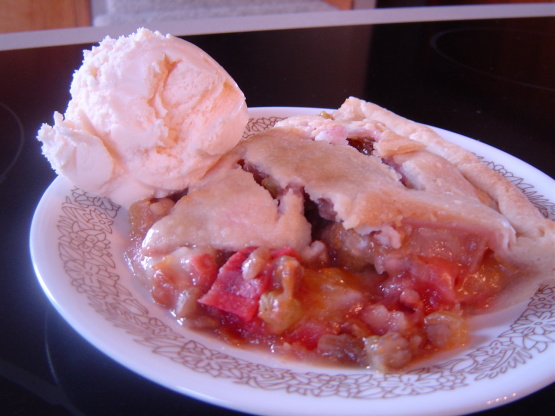 Nearly every farmhouse in Wisconsin has its own rhubarb patch; ours is nestled between the clothesline poles, along with tulips and daffodils. Rhubarb is LOADED with healthy nutrients--finding a delivery system is the trick (sugar helps!). Time noted does NOT including cooling time after the pie is baked.

Although, as a kid in rural Montana, I used to LOVE eating rhubarb as soon as I could break a stalk off, later in life I lost that love! Didn't even care for strawberry/rhubarb pie! HOWEVER, I'm slowly coming to the realization that there ARE some very nice things that can be done with it, & this pie is one of those! The taste of the rhubarb, in combination with the orange, raisin & roasted pecan flavors, is WONDERFUL (roasted nuts from a recent kitchen project)! My preference = If you MUST spoil this with something additional, spoil it with ice cream or frozen yogurt! However, it is a great taste treat just as it is slightly cooled from the oven! [Tagged, made & reviewed in the Please Review My Recipe cooking game]
In a large bowl, combine 'barb, raisins, nuts, peel, sugar, juice, tapioca, nutmeg (optional); let stand 30 minutes to get juicy.
While that is "working" prepare the pie crust.
Preheat oven to 400.
Line pie-plate with bottom pastry; pour in filling; dot with butter.
Roll out remaining pastry; place over filling; trim, seal and flute edges; cut five decorative VENT-holes in the top, lay those pieces artfully over the crust.
Brush top with milk, sprinkle with sugar.
Cover crust edges with foil strips (prevent burning); bake for 30 minutes, remove foil; bake 5 minutes more (crust should be golden brown, filling bubbly).
Cool on wire rack.
Serve as is or with whipped or ice cream.