Pixie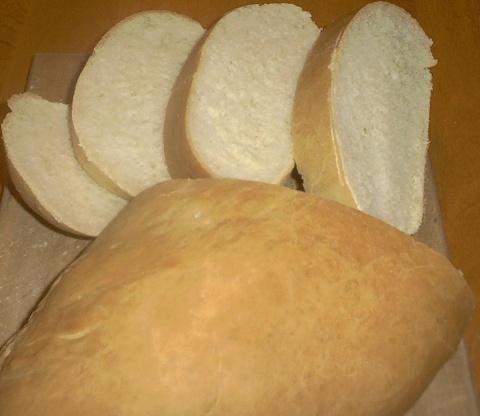 This is so easy to make. It uses simple ingredients you normally have on hand.

great recipe! I did half the recipe, the whole wheat version, and replaced the shortening with olive oil. I also just added a pinch of sugar rather than 1/8 c. I do think I would lower the salt next time as well. Just a personal preference, but I felt it is a bit salty. thanks for sharing!
Dissolve yeast and 1 cup warm water in a large mixing bowl. Let rest 10-15 minutes.
Add salt, sugar, shortening and 3 1/3 cups warm water.
Gradually mix in 10 cups of flour. Add up to 2 more cups until dough is no longer sticky.
Knead for 10 minutes. Cover the bowl and let rise for 1 hour until dough doubles in size.
Punch down dough, form into 4 loaves, place into loaf pans and let rise again until double in size(about an hour).
Place in preheated oven at 375 degrees and bake until golden brown (about 35 Minutes).
This recipe also works well halfed.
For whole wheat bread, substitute 4 cups of whole wheat flour mixed with 6 to 8 cups of white flour.
I cool slice and freeze the extra laoves for later.