Farmgirl's Mushroom Sauce
troyh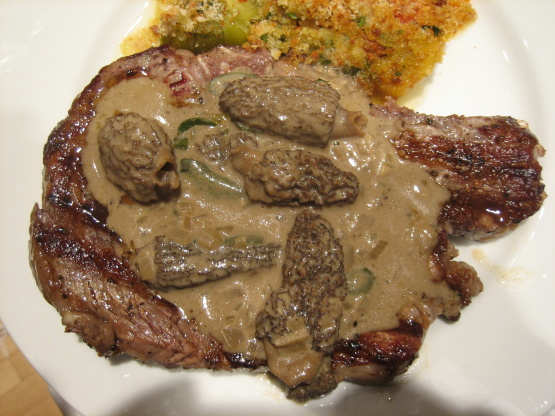 Woody mushrooms and tangy sage are offset by sweet shallots. A great sauce to serve on FarmGirl's Grilled Wild Boar Chops or over rice.

well YUM..this is wonderful just wonderfl since I am a meat/potatoe gal..I know but hey I had mashed anyway..I used a mix of reg freash button mushrooms..and a couple portabella... I hunt morals in early spring..have a couple secret spots that yeild a pretty good supply... so I can not wait to try this with morals.... there just is NO other flavor as woodsy as the moral...oh drool..I have 21/2.. 3 months to wait..
Reconstitute mushrooms according to package directions (i.e. soak in warm water, stock or wine for 20 minutes or so; strain, reserve liquid for future projects).
Reduce broth to half (i.e. boil uncovered for 40 minutes or so).
Heat oil in heavy sauce pan.
Add garlic and cook gently for 1 minute or so.
Add shallot, mushrooms and sage leaves.
Cook on medium until sage and mushrooms are cooked, 10 minutes.
Add reduced broth and simmer 5 minutes.
Serve over wild game or rice.