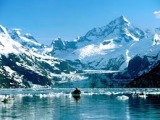 This is a Paula Deen recipe which has become a favorite in our house. It is a hearty, comfort-food type of meal. The white sauce and potatoes are absolutely delicious. It takes a bit of time to prepare but the results are well worth it! I also like to serve this with a steamed vegetable and/or salad. Enjoy!
Directions
Preheat oven to 350 degrees Fahrenheit.
Peel potatoes, slice 1/4 inch thick and cover with cold water.
Slice onion into very thin slices. Cut slices in half.
Make The White Sauce:.
Melt butter; remove from heat.
Stir in flour and add salt and pepper.
Return to heat and cook, stirring constantly, until mixture is bubbly.
Add milk, 1 cup at a time.
Bring to a boil over medium heat, stirring frequently.
Reduce heat and simmer 1 to 2 minutes, then let stand at least 1 to 2 minutes.
Stir in parsley or chives, if desired.
Drain potatoes.
Layer half the potatoes in a well-greased 15 x 10 inch casserole dish(I use 9 x 13 and it's fine).
Sprinkle with salt and pepper to taste.
Scatter half of onion slices on top of potatoes.
Repeat with remaining potatoes and onions.
Cover potatoes with white sauce.
Cover casserole dish with plastic wrap and microwave for 5 minutes on high OR bake uncovered for 15 minutes.
Mix together flour and seasoned salt and dredge pork chops in flour mixture.
Lightly brown chops in vegetable oil. *Do not cook them completely*.
As chops are removed from frying pan, lay them on top of the potatoes.
Bake at 350 degrees fahrenheit for 45-60 minutes.
The juices from the pork chops will drip down into the potatoes and taste oh-so-yummy!
Reviews
Most Helpful
We absolutely loved this recipe. I added a lot more cajun seasoning than the recipe called for but that's the way we like our food. DH wanted the chops very brown, but unfortunately when you do that it overcooks the chops after baking it in the oven. I'll have to change up the cooking process a bit in order not to overcook the chops. I only used 4 chops and had leftover potatoes but we just served the potatoes as a side dish for the next two meals. I will probably add some minced garlic to the potatoes next time. But all in all an excellent dish.

Good quick homey food. I microwaved the spuds for 10 min. so that I didn't have to bake the chops so long. Mine are generally done in 30 min. I also scaled the recipe back for 2 as it was just us two for dinner. :)

OMG ... LIG these were perfect. What a lovely meal, the pork chops were perfectly cooked, tender and delicious. The potatoes were lovely just the way we like em. Made exactly as written and wouldn't change a thing. I can see why this is a family favorite. This recipe will be made again and again. Thanks so much for sharing. Made FYC tag game.