Farmer's Pie (Vegetarian Shepherd's Pie)
msmia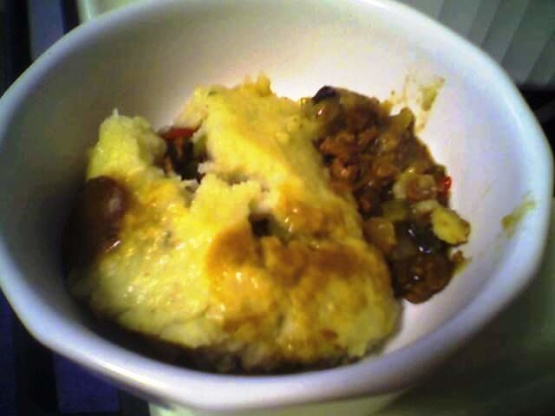 If shepherd's Pie is made w/ lamb & Cottage Pie is made w/ beef, the vege version must be... Farmer's Pie!!! ;)

This recipe was truly delicious! I loved the mashed cauliflower and the 'meat' filling was savory and delicious. I can't wait to see how it tastes as a leftover! I will definitely be making this again, thanks!
MASHED CAULIFLOWER TOPPING: Steam or microwave cauliflower until fork tender.
Place in food processor and add Molly McButter, garlic powder and salt & pepper.
Process until it has a mashed potato-like consistency.
VEGETABLE BASE: In a large skillet combine red pepper, celery, onion, mushrooms and worcestershire sauce.
Cover & cook until veges are soft.
Add bouillon cube, water and ground beef crumbles.
Simmer for 5 minutes.
Whisk flour w/ 2 Tbls water & stir into skillet to thicken sauce.
Pour vege base into casserole dish & top w/ mashed cauliflower.
Sprinkle parmesan cheese on top.
Broil to brown the top.
Enjoy!