Bergy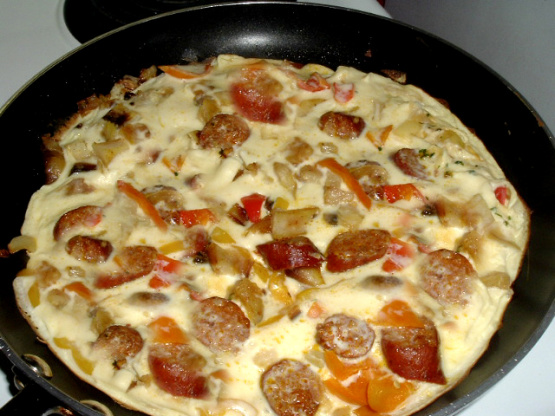 This is great for a brunch or dinner dish. From the Chicago Tribune Good Eating Cookbook.

We loved this recipe! By omitting the potato this made an outstanding low-carb dish. Very very easy and quick to put together and looks really great when served up. This is our new favorite way to use polish/smoked sausage! Thanks for this great recipe :)
Heat oven to 350° F.
Cook sausage over medium heat in a 10-inch cast-iron or ovenproof skillet, stirring unil browned, 2-3 minutes.
Remove with a slotted spoon to a bowl.
Melt butter in the skillet.
Add potato.
Cook, stirring, until browned, 5-7 minutes.
Remove with a slotted spoon; add to sausage in the bowl.
Put onion, green bell pepper, and mushrooms in skillet.
Cook, stirring, until soft, about 5 minutes.
Add sausage and potato to skillet; cook, stirring, 1 minute.
Add beaten eggs, salt and black pepper to taste to skillet.
Do not stir.
Bake in the oven until puffed and firm, 15-20 minutes.