Farmer's Market Casserole
Prep 15 mins
Cook 1 hr 15 mins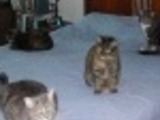 Another wonderful recipe from my favorite award-winning cookbook and a great way to create a colorful and tasty concoction while using up some of your fresh garden vegetables. Nice vegetarian main meal for two or side dish for four. Be sure to use a shallow casserole so vegetables are tender in allotted time. Note that this may be prepared a couple of hours ahead, up to last cooking interval, if left at room temperature. (This recipe comes from a cookbook of the UP area of Michigan, which could be construed as Canada, so I'm submitting this for Zaar World Tour Canadian recipes.)
Directions
Preheat oven to 375 degrees.
In ungreased, shallow 8x11 inch casserole, layer vegetables in order given, seasoning each layer with thyme, marjoram, salt and pepper, to taste.
Pour wine overall, cover (with aluminum foil if cover otherwise unavailable) and bake 1 hour.
Meanwhile melt butter in small skillet, then stir in bread cubes until butter is absorbed. Sprinkle cheese, then buttered bread cubes over casserole. Bake, uncovered, another 15-20 minutes.
Most Helpful
I was disappointed in the lack of flavor. Between the wine and the seasonings I expect it to 'pop' not 'flop'. If I do it again I'll use only 1/2 c. of vegetable broth (there was a lot of liquid in the bottom), and my husband suggested using cilantro instead of the thyme and marjoram. Also, my husband felt that the bread detracted from the overall taste. Sorry I didn't like it - I really wanted to.
great!

I have made this recipe about 6 times now and it always comes out great! One time I was out of thyme and used only Marjoram and it was still good. I have used many different white wines, doubled the bread crumbs, and have used either swiss and/or cheddar cheese and it is always wonderful. Next time I am going to try Feta cheese and see how it comes out! Thanks for sharing!