Farmer's Chop Suey (Salad)
Kats Mom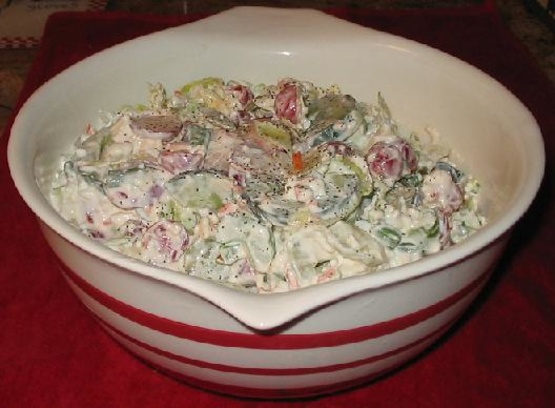 This was my mother's recipe that she cut from a magazine back in the sixties. It always made any meal special. I enjoy freshly ground black pepper on this salad. Veggie amounts can vary according to availability and personal tastes. Prep time varies. I guess-timated figuring my slow chopping time. Cooking time is chilling time.

This was a very nice salad. It couldn't be easier to prepare. We just had this as our main course. The only thing I did different was to cut the recipe in half. Will make again. Thanks Kat's Mom. Bullwinkle.
DRESSING

1

lb cottage cheese

1

lb sour cream
1⁄2-1 teaspoon salt

SALAD

1

cup cucumber, sliced

2

cups lettuce, torn in pieces

3

green onions, chopped
1⁄2 cup radish, sliced
1⁄2 cup green pepper, sliced
1⁄2 cup celery, chopped

2

hardboiled egg, chopped

1 -2

cup cherry tomatoes, halved
1⁄4 cup carrot, shredded, approx. 1 carrot (optional)
Assemble dressing in a bowl by mixing cottage cheese, sour cream and salt.
Wash the cucumber well and slice it (peeling is optional).
Salt the cucumber slices and place in a small bowl.
Chill the dressing and cucumbers for 1 hour in the refrigerator.
After chopping and slicing the veggies, drain any liquid from the cucumbers.
Toss all veggies with the dressing, mixing well.