diner524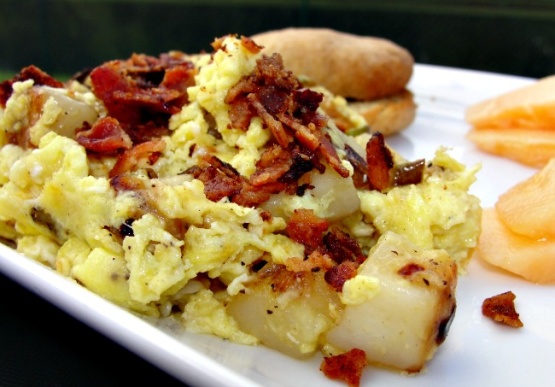 My grandmother used to make this for my granddad. She always believed in hearty breakfasts. I only make this about once a year because it is not very healthy but nonetheless, it is delicious.

This recipe brought back so many memories of my Dad making this on a weekend morning. He made it the way his grandma used to make it for him which is quite similar to the recipe. I made this for a lazy weekend dinner using your recipe as a guide and substituting for things I remember Dad putting in. This used to be a meal where you used up the leftovers from the night before to make a hearty breakfast for the farmers. It's really good with leftover roast pumpkin and potato from the roast dinner the day before with a few peas thrown in for good measure. I made it with potatoes as stated in the recipe, it always had potatoes, and sub peas for the peppers. Great recipe, thanks for posting it!
Fry bacon in a medium skillet until crisp; remove bacon, reserving 2 tablespoons drippings in skillet.
Set bacon aside to drain on papertowels.
Add green pepper, onion, and potatoes to skillet; cook over medium heat for about 5 minutes or until the potatoes are browned.
Sprinkle cheese over potatoes, and stir until cheese melts.
Pour eggs into skillet; cook over low heat, stirring gently, until done.
Season to taste with salt and pepper.
Sprinkle with bacon, and serve immediately.