Bergy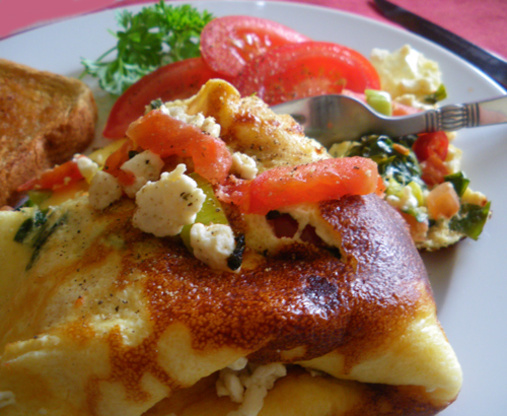 Filled with fresh vegetables and cheese
2

tablespoons unsalted butter

1

baby leek, sliced into thin half-moons (white and light green parts, may substitute 2 scallions)

1

cup lightly packed chopped fresh spinach
1⁄4 cup diced tomatoes, squeezed of juice (may substitute halved cherry tomatoes)
1⁄2 cup crumbled mild creamy goat cheese (may substitute grated sharp cheddar cheese)
Crack eggs into a mixing bowl; add salt, pepper, and 1 tablespoon water; whisk just enough to combine the yolks and whites; you should still see large bubbles; set aside.
Melt 1 tablespoon butter in a 7-8 inch omelet pan or skillet (nonstick) over medium heat.
Add in leek; stir/saute about 5 minutes until soft (scallions will take about half this time).
Stir in spinach; cook until wilted, with no watery liquid.
Spoon mixture out into a bowl, stir in tomatoes and salt lightly.
Wipe out the pan; warm it again over high heat.
Add the remaining tablespoon butter, swirling to coat the entire surface thoroughly.
Just when the butter begins to color, add the egg mixture and swirl it to coat the entire surface.
Let the pan sit directly over the heat for a few seconds, until the eggs just begin to set in the bottom of the pan.
Spoon the leek mixture over the egg, quickly followed by about half the cheese.
Pull the pan sharply toward you several times and then tilt the pan and use a spatula to fold the front half of the omelet over the back.
Tip the omelet out onto a heatproof plate, neatening it with a spatula.
Sprinkle the remaining cheese over the top; arrange extra tomatoes over or on the side; serve immediatly.