Farm Carrots With Cumin, Caraway & Lime
Prep 10 mins
Cook 30 mins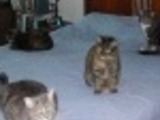 Never have I had carrots that tasted as good as this! Spices and carrot juice make this recipe. If you try it, I hope you enjoy as much as we did. BF found this recipe from a recent edition of Country Home magazine. You can either buy carrot juice or make it yourself if you have a juicer.
Directions
If using baby carrots, half or quarter lengthwise.
Heat a large non-stick skillet over medium heat. Add cumin, caraway and mustard seeds to dry skillet. Cook and stir until seeds are toasted and begin to pop, about 3 to 4 minutes. If you don't have cumin or mustard seeds, try about 1/4-1/2 teaspoon powdered and add with carrot juice in next step.
Carefully add carrot juice and bring to a boil. Reduce heat and simmer until mixture is reduced by three-quarters, about 4 minutes. Add butter and stir until just melted. Strain, discard seeds and set aside, keeping warm.
In the same skillet, cook the carrots in olive oil over medium heat about 15 to 18 minutes (depending on whether your carrots are large or small julienne) or until tender, turning occasionally.
Add carrot juice reduction, stir in lime juice, and salt and pepper to taste. Sprinkle with herbs to serve.
Reviews
Most Helpful
WOW so quick and so delcious! I will make this for sure again! Rosting the seed is very important so they turn so delicous! I did not have cider vinegar on hand so I mixed lemon juice and white balsamico vinegar. Thanks a lot for this impressive tasty salad!

These were great carrots! I love the flavor from sauteeing them; mine got a bit brown and caramelized...yum. I couldn't taste much of the spices, though, and I did use all seeds. Still a great flavor, and easy to make. Will definitely make again!

Oh, wow! And I, too, don't like cooked carrots. I had to use powdered cumin and mustard. And DH doesn't care for caraway. But everyone at Thanksgiving was impressed by this unusually flavored dish. Many thanks!