CoffeeB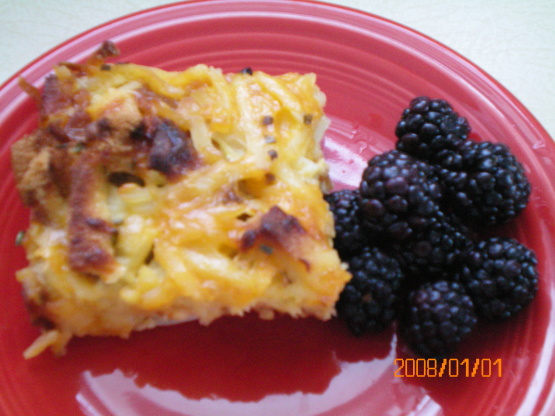 I got this recipe off of Recipe Link posted by Gladys - and it is SO good and perfect for holiday or anytime! It was so nice to prepare this the night before and be able to just throw it in the oven Christmas morning! Everyone LOVED it!

For taste this is definitely 5 stars! It was loved by all at a church breakfast. For prep time and effort I would give it a 4 (because I am old and cranky and don't like to fuss too much) It was a little on the expensive side, but I bought only the best ingredients as it was a special occasion. Would do it again for a crowd and serve it with pride. Carole in Orlando
1

lb bacon (cut into 1/2 inch pieces)
1⁄2 lb cooked ham (cut into cubes or diced)

1

small onion (chopped)

10 -12

slices white bread (recipe originally said cubed but I left them whole)

2

cups cubed potatoes (I used Ore-Ida western style or can use O'Brien)

3

cups shredded cheese

10

large eggs

3

cups milk

1

tablespoon Worcestershire sauce

1

teaspoon dry mustard
salt and pepper
The NIGHT BEFORE:.
In large skillet, cook bacon until crisp.
Drain off excess bacon fat, but keep a little in skillet in order to cook onion.
Add onion, ham and chopped bacon to skillet and cook until onion is tender and transparent.
Butter a large baking dish - I used a glass lasagna dish.
Layer the bread to cover bottom of dish - will use probably 5-6 slices or half the amount of bread cubed.
Add half of potatoes and cheese.
Top with bacon, onion and ham mixture.
Add remaining pieces of bread, potatoes and cheese.
In large bowl, beat eggs, milk, Worcestershire sauce, mustard, salt and pepper.
Pour this mixture evenly over the ingredients in baking dish.
Cover and chill OVERNIGHT in the refrigerator.
The NEXT MORNING:.
Remove strata from the refrigerator and bring to room temp (about 30 minutes prior to baking).
Preheat oven to 325°F.
Bake uncovered for 1 hour or when knife is inserted near center and comes out clean.