Farfalle With Tuna in a Basil Lemon Dressing
PaulaG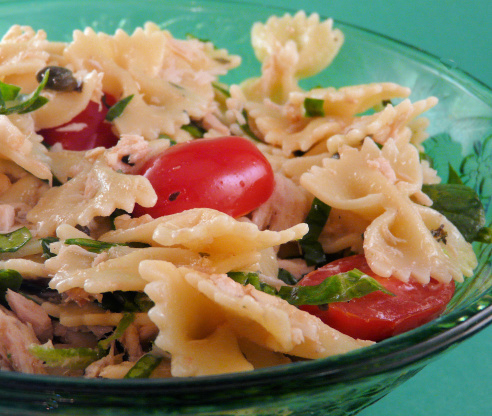 This is the quickest summer dinner we all love. The possibilities are endless as far as playing with it. I've added, at various times, roasted red peppers, capers, peas and toasted pignoli for some crunch. I first had this at a little deli in Los Gatos that has long since closed, but found something similar on Epicurious and adapted it a bit. This is a life saver when you're tired!
Boil pasta in salted water.
Mince garlic.
Zest lemon to get one tablespoon zest. Juice the lemon. (About two tablespoons.).
Shred basil into thin strips.
Whisk together garlic, zest, lemon juice, olive oil in a large bowl and toss in tuna, breaking it up, add basil and tomatoes.
Drain pasta well and add to bowl. Toss well.
If pasta seems dry, add either a little pasta cooking water or more olive oil.
Serve warm, or room temperature.