Farfalle Pasta With Zucchini, Mint, and Almonds
Thorsten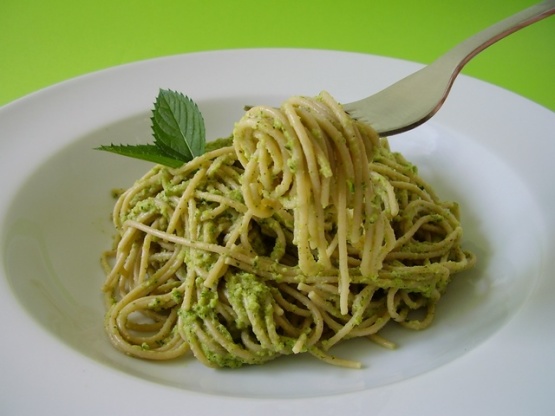 This Summery pasta dish is from Shell on the IBS boards. I can't wait to try it.

I just loved this dish although I was pretty sceptical when I started cooking it due to the different reviews it has recieved so far. I was too lazy to wash the food processor afterwards so I just put the mint and almonds into the mortar. The result was chunky to beginn with, so I was prepared for the texture of the dish. I threw the Zucchini and Garlic into a pan and sauteed them, then aded the noodles, almonds and mint and tossed everything. I served it with freshly grated parmesan cheese and ground black pepper. Thank you so much for this wonderful recipe. I will definatley make this more often.
Set the pasta water to boil.
Place zucchini in saucepan, cover with water, bring to a boil and cook till tender. Drain.
Place mint, almonds, garlic and olive oil in a food processor. Mince finely.
Add zucchini. Puree.
Add salt and pepper to taste.
Cook and drain the pasta, pour into serving bowl.
Add zucchini mixture and toss well.