Fantastically Fresh Summer Salad
Diana 2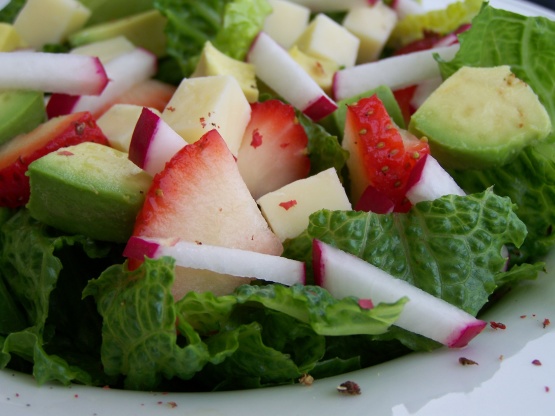 This salad is easy to put together and tastes delicious. Don't let the list of ingredients fool you - they are items that you typically have on hand. In the salad, the combination of radishes, strawberries and avocado are a mixture of complimentary tastes and textures. Personally, I don't toss salads with the toppings because the toppings always seem to fall to the bottom of the bowl and you miss out on them.

Excellent salad! The ingredients go very well together. I used aged white cheddar horseradish cheese and that was perfect. I cut the amount of oil in half, but that's all I changed. Thanx for posting!
Mix all ingredients for the dressing in a blender or food processor. Blend for at least 2 minutes.
Place the lettuce in a large salad bowl. Add dressing and toss.
Top with radishes, strawberries, avocado and cheddar cheese. Serve immediately.