Fantastic Mexican Corn and Bean Salad (Vegetarian)
IngridH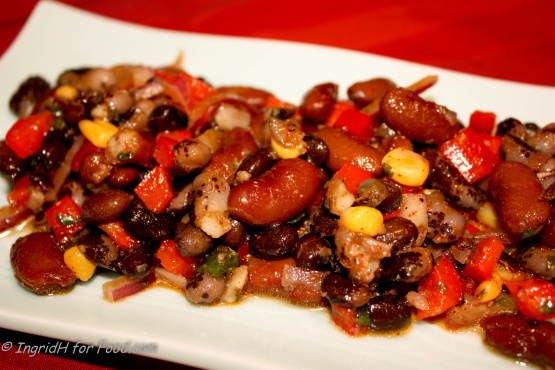 This recipe makes a large amount but don't worry when you taste this you won't be able to keep your spoon out of the bowl it is *that* delicious! Plan ahead this salad *must* chill for 24 hours before serving. Adjust the Tabasco and all seasonings to taste. This is perfect for a barbecue get together or to take to a potluck!

Perfect salad for a Mexican buffet!
In a bowl whisk together, oil, vinegar, lime juice, sugar, garlic, cumin, chili powder, cilantro, seasoned salt and black pepper until well combined.
Add in Tabasco or hot sauce to taste.
In a large glass bowl toss together all the beans, bell pepper, jalapeno pepper, corn and sliced red onions.
Pour the dressing over the bean mixture; toss to coat the season with white salt and more black pepper if needed.
Cover and chill 24 hours mixing once or twice during chilling time.
Just before serving mix in the grape tomatoes.