Fantastic Lemon Basil Chicken Salad
BecR2400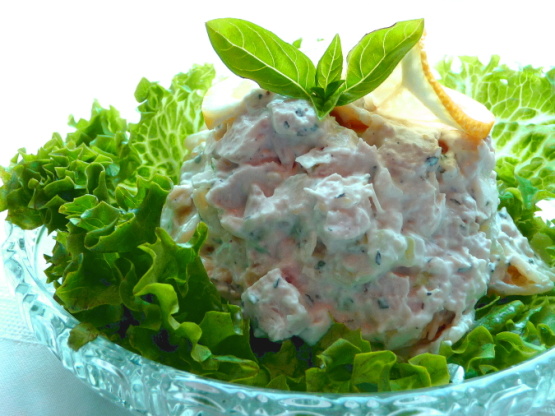 An incredibly fantastic chicken salad, perfect for summertime entertaining! Also great tossed with cooked bow-tie pasta, which makes a more substantial meal. This is so delicious, one of my all-time favorite chicken salads!! Slightly adapted from a Paula Deen recipe.

This is awesome!!!! Oh my gosh, plain old chicken salad will never be made in my house again! It's so refreshing and light with the lemon and basil. I didn't change a thing nor did I have to. I had purchased a very crisp and citrus Sauvignon Blanc to serve with this for a late afternoon lunch and it just blew my guest away. Very impressive.
In a medium bowl, combine chicken, celery, basil and almonds.
In a small bowl, combine sour cream, mayonnaise, lemon juice, lemon zest, Dijon, salt, pepper and onions. Add to chicken mixture (add pasta if using), tossing gently to coat.
Cover and chill.