Fantastic Banana Cream Pie or Pudding Using 3-4 Ripe Bananas
WhoAmEye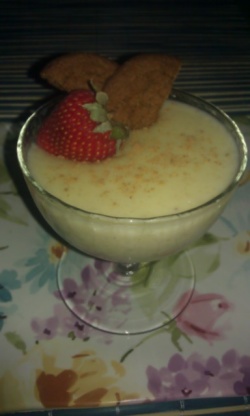 Here is a great way to use up those ripe bananas.This homemade"made from scratch" recipe(for the filling) will sure be a hit around the house and work place.Its easy to prepare. You can make a Graham Cracker crust, recipe on Recipezaar,or purchase a couple shells to save time. The taste is amazing. This recipe will make enough filling for 2 -10" pies. People will be asking for the recipe. Best I have ever had, "No Doubt".

Finally, a recipe that is real "from scratch" banana pudding and pie filling.. Not that vanilla pudding with banana slices. Yay! I just made this recipe and it is to die for. I luv it. It is sooo yummy. I put the pudding in cups not a pie. I will try that later. I have picky eaters and they love it. Just like Lotso the Bear would say "itsa keepah" :D
Mix cornstarch, sugar, salt with the cold milk in a large saucepan.
Cook mixture over medium heat to dissolve. (Stir constantly) until boiling.
Pour 1/4 of the mixture into the beaten eggs and blend thoroughly.
Return mixture back to saucepan.
Add 1 smashed banana to mixture and stir until blended .
Cook until thick and creamy.
Add margarine/butter and vanilla.
Add dash of salt.
Add 1/2 of the mixture to 2x10" pie shells (1/4 of mixture to each shell).
Slice the remaining bananas on top of the 2 pies.
Cover the bananas with the rest of the mixture.
Put in refrigerator to set.
When ready top the pies with whipped cream or Cool Whip.