Fantastic Apple Sour Cream Coffee Cake
Lainey39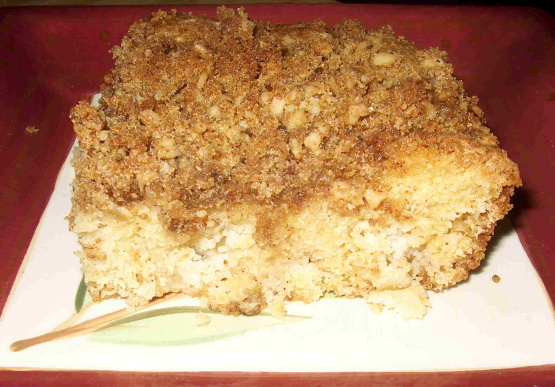 This addition of sour cream in this coffee cake makes it so moist and delicious! This is one of my all-time favorite cake recipes, I have even made this cake with fresh blueberries adding in 1 tsp almond extract to replace the vanilla, or you can even add it in when using apples --- this cake is fantastic without the topping and just used as a white cake --- I usually double the brown sugar topping and spread half of the cake batter in the pan then sprinkle half of the topping then top with remaining batter, the batter will not really cover the topping mix if you are using a 13x9-inch pan but not to worry it will bake together just fine and besides you will be sprinkling the remaining batter on top anyway! --- serve this with whipped cream or ice cream, *SO* delicious!

Best cake ever! Light, pluffy, not too sweet. I substituted the sour cream with yogurt. My family who cannot handle sweets LOVED it. I also made it as a cupcake.
Preheat oven to 350 degrees F.
Set oven rack to second-lowest position.
Grease a 13 x 9-inch baking pan (this can also be made in an 11 x 7-inch baking pan).
In a mixing bowl, cream the shortening and sugar for a couple of minutes.
Add in the eggs and vanilla or almond extract (if using); beat for about 5 minutes.
In a bowl, sift together the flour, baking powder, baking soda and salt.
Add to creamed mixture alternating with sour cream.
Fold in the apples.
Spread the batter into prepared baking pan.
In a small bowl, combine the nuts, brown sugar, cinnamon and butter.
Sprinkle the nut mixture evenly over the batter.
Bake for 35-40 minutes, or until the cake tests done.