Fannie Farmer Blueberry Muffins
DeCielo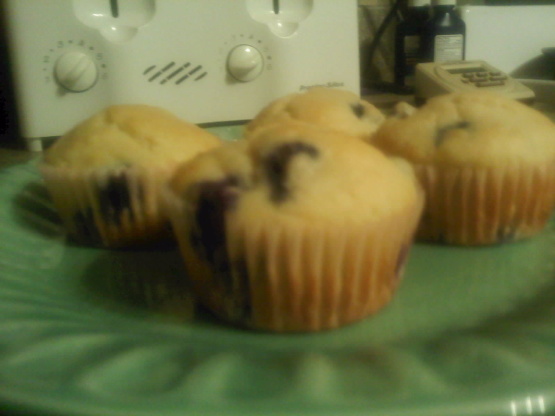 This recipe is from the 1959 Fannie Farmer Boston Cooking School Cookbook. For the tenderest muffins, use pastry flour and avoid over-beating [fold nuts, berries, fruits in with spatula till all are gently mixed in. BATTER SHOULD NOT BE SMOOTH! Choose between 2 cups of pastry flour OR 1-7/8 Cups of all-purpose flour. This recipe can be altered by the leaving out the berries, or substituting as follows: Using 1/4 cup bacon fat instead of butter, plus 3 Tablespoons crumbled cooked bacon; Using huckleberries instead of blueberries; Add 1/2 cup sliced pitted dates or 1/4 cup raisins; Add 3/4 cup candied orange peel, chopped fine; Add to the milk 3/4 cup peaches, peeled and diced; Use 1/4 cup sugar plus 1/2 cup chopped pecans [then before baking muffins top with sugar/cinnamon and more nuts]; Substitute 3/4 cup coarse whole-wheat flour for 1 cup of the flour, Do not sift it the whole-wheat; and last variation is: Spread in a buttered 8 or 9 inch square tin [sprinkle with cinnamon sugar, bake @ 375* about 25 minutes, cut in squares].

Great recipe but poorly transcribed -- the list of ingredients should say 2c. cake flour OR 1 7/8c. A/P. You have to read the instructions to catch this, which makes it easy to screw up the recipe if you're only looking it up to remind yourself of the amount of each ingredient to put in.
1. Preheat oven for 400 degrees Fahrenheit.
2. Sift into a mixing bowl all dry ingredients (reserving 1/4 cup flour for add in berries). DO NOT USE both pastry and all-purpose flour. Use one or the other.
3. Mix in another bowl remaining ingredients (save berries for last).
4. Pour wet mixture over the flour mixture. Stir only enough to dampen the flour.
5. Mix 1/4 cup of flour with berries, add 1/2 cup sugar.
6. Gently fold berries into batter.
7. Spoon into buttered muffin tins (or paper lined tins), having the tins about two-thirds full.
8. Bake at 400 degrees fahrenheit for 15 minutes.
Makes 12.