Fancy Pasta or Potato Salad
Parsley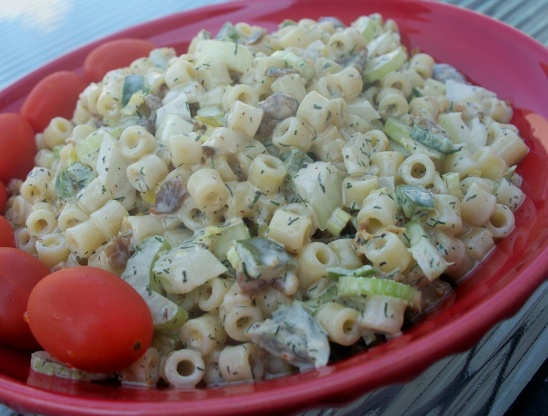 This recipe can either be made with your favorite macaroni shape pasta or you can use for a tasty pototo salad. I got this recipe from the Southern Magazine years ago when I first started cooking. I just changed the elbow macaroni to the ditalini (small tube shape) macaroni and added dill relish.

This was a "hidden gem" of a recipe! I was just looking for a way to use up some dialini and came across this. I love the combo of flavors in the dressing (the chili powder makes it!). I used Heinz chili sauce instead of ketchup. I did prefer this when freshly made as the noodles soak up a lot of the sauce upon refrig. Thanks Marsha, for posting- Roxygirl
Cook macaroni according to pkg. or potatoes. Drain well.
Combine in large bowl, cooked macaroni (or potatoes),bacon crumbles, celery, onion, green or red peppers, and dill relish.
Add dill weed or dill seeds and stir well.
In a small bowl combine mayonnaise, ketchup, chili powder, Worcestershire sauce, salt, black pepper and sugar. Stir well.
Pour dressing over macaroni salad or potatoes and stir to combine.
Chill 30 minutes to 1 hour before serving.
Note: Using macaroni, this will last a week in the refrigerator. Also this has the best flavor a day are two after making.
You may also serve warm but its best chilled.