Prep 15 mins
Cook 15 mins

These are great when you don't want plain old green beans. Modified from the original recipe from Paula Deen.
Directions
Teriyaki-Honey Sauce:.
In a small bowl, stir together the teriyaki suace, honey and melted butter.
Bring a large pot of water to a boil.
Drop in the beans and cook for 4-5 minutes, or until the beans are bright green.
Drain the beans in a colander, then plunge them into ice water.
Drain again and set aside.
In a skillet, cook the bacon until very crisp.
Crumble and set aside.
Saute the peppers, onion and garlic in the hot bacon fat for 2-3 minutes.
Add the beans, cashews and bacon to the skillet and heat through.
Add the teriyaki-honey sauce and toss gently.
Add the lemon juice and toss again.
Enjoy.
Reviews
Most Helpful
Very good recipe.
I just made this and we really enjoyed it;I had no cashews so I used almonds and did not add the bacon. I will be making this one again,Thanks for sharing.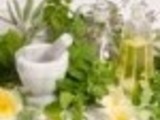 I made this lastnight to take to a dinner and everyone loved it. It was quick and easy to make, and tasted wonderful. I didn't have any bacon on hand, but I will definitely try it next time. Thanks for the great recipe.