mtbikeTX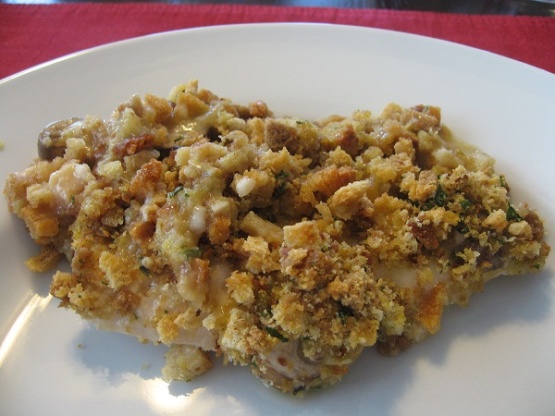 One of my favorite recipes from my mom. Everyone loves it, and its soooo quick and easy, and made from ingredients that we usually have on hand. Great to impress last-minute company.

Top Review by Bekah
OH YUM!!! So easy, and so wonderful! I was kicking myself for not putting my chicken in my crockpot yesterday AM for my dinner guests. Then I found this, and am so happy I did! It was into the oven in under 5 minutes, and smelled wonderful by the time they arrived! Tasted even better!!!! They thought I slaved... dont tell. Thanks so much!
Preheat oven to 350.
Place the chicken in a 9x13 pan sprayed with"Pam".
Top each piece of chicken with a slice of cheese.
Arrange the sliced mushrooms over the cheese.
Mix the soup and the wine together, and pour over the top.
Sprinkle the stuffing over the top.
Melt the margarine and drizzle over the top.
Bake for approx 40 minutes or until chickenis baked through.