Fancy Double Drizzled Chocolate Chip Scones
diner524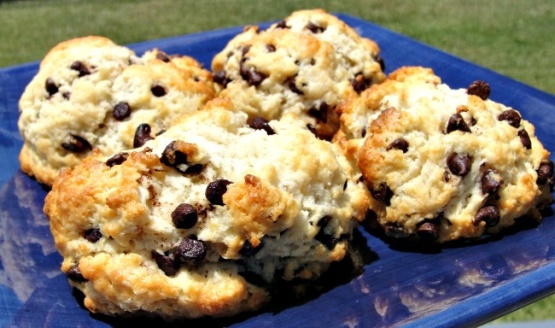 Named for the chocolate garnish which you may use or not, as you wish. The scones are delicious either way but the drizzle makes them extra special.
So glad I made these! They are easy, and not fussy, and really tastey! There is just enough chocolate with the mini chips and the drizzle so they are not too sweet, but still a nice treat. They have a nice light and slightly moist texture which was also very nice. I would highly recommend these!
Preheat oven to 425 degrees F. Stack two baking sheets together and line top one with parchment paper (if baking scones freeform). Or, spray six to eight 3 1/2 inch individual tart tins with non-stick cooking spray.
In a food processor, place flour, sugar, salt and baking powder. Process to combine. Add the butter and pulse to cut it into dry mixture. Process until you have a coarse, mealy texture.
Turn mixture out into a large bowl. Make a well in the center and add egg, vanilla and most of the cream. Stir to make a soft dough. Fold in chocolate chips. Texture should be between a dough and a firm batter. With an ice cream scoop, drop scone dough into tart tins or onto baking sheet.
Bake until lightly browned (15-18 minutes).
Remove from oven and cool in tart tins or on baking sheet until slightly cooled, about 15 minutes.
Place parchment paper or waxed paper under cooling racks; transfer cooled scones to racks. Drizzle both melted chocolates over scones. After the chocolate has set, dust tops of scones with confectioners' sugar. Place scones on serving plate. Serve slightly warm or at room temperature with Creme Fraiche or Devonshire Clotted Cream (optional). Makes 6-8 scones.
**Tip:
When melting White Chocolate, be careful not to burn it. White Chocolate or milk chocolate will burn much easier than dark chocolate as they have a much higher milk solid content. When melting white chocolate or milk chocolate, place chocolate in a double boiler on very low heat. Stir constantly, and keep your eye on it continually while melting.