Fancy Chicken Salad and Croissant Sandwiches
lazyme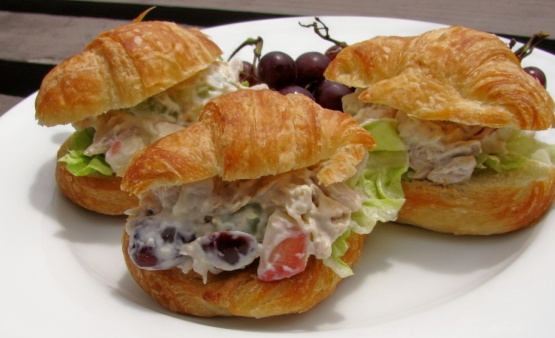 This is the only chicken salad I like! I have made these for many potlucks and people just rave over them. This recipe has a crisp, clean, and sweet taste. Not your regular old chicken salad!
Drain chicken and dump contents in bowl.
I use a potato peeler and peal my apple. Sometimes I just scrape the whole apple and chop the scrapings. Or you could just finely chop the whole apple.
I usually cut the grapes in half with a knife. or I take a grape between my thumb and index finger and smash it and it break into 2 pieces. I do this to over half the bag. That works 2!
Add the mayo and stir all together.
Cut croissants in half and spoon mixture on.
This looks very pretty and elegant!