COOKGIRl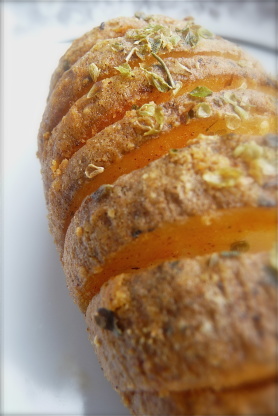 Crispy potatoes, sliced so that the buttery and crispy goodness gets inside... and so pretty, too! From Canadian Living May 2010 Issue.

These were a big hit...you know it's a good thing when the butter-loving children don't ask for any on their potato. I did it slightly different, more by mistake than anything else - I mixed all the ingredients together and then rubbed the mixture all over each potato. As a result they had a nice crispy outer edge and were creamy inside. The potatoes I used were medium russets and they cooked perfectly in the amount of time specified. I'll definitely make these again, they were so easy and so popular around here!
Without cutting potatoes all the way through, cut 1/4" thick slices in potaotes.
Blend together flour, salt, pepper and paprika; roll each potato in mixture. Place, uncut base down, in ovenproof dish or roasting pan. Drizzle with butter and sprinkle with thyme.
Bake in 375F (190C) oven until tender, fanned out, golden and crispy, about 1 1/4 hours. To serve, drizzle with any remaining browned butter in pan.