Famous Hot Artichoke Spinach Dip
Hadice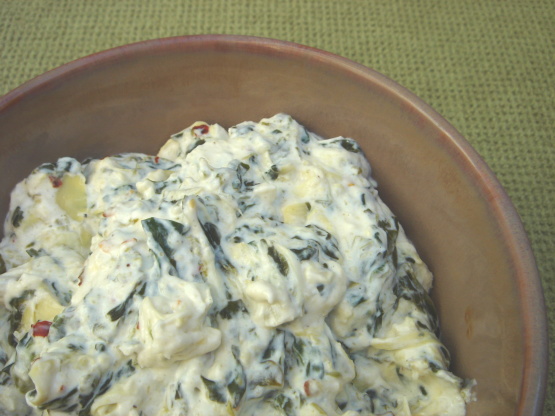 I have never seen a recipe for spinach dip quite like this. No mayo, no sour cream, just cream cheese with a kick! Requested for every event. Serve with a baguette cut into thin slices and lightly toasted. Found on an Olive Garden copycat website about 3 years ago.
Boil frozen spinach and artichoke hearts in 1 cup of water for ten minutes.
Drain in colander.
Heat cream cheese in microwave until soft and creamy.
Mash in spinach and artichokes and stir well.
Add remaining ingredients and combine. No baking required!
If desired, top with roma tomatoes but don't stir into dip.
Serve HOT HOT HOT HOT HOT immediately with toast points, party bread or chips. DO NOT SERVE COLD OR IT WILL BE VERY YUCKY!