Famous Dave's Creamy Sweet & Sour Coleslaw
Parsley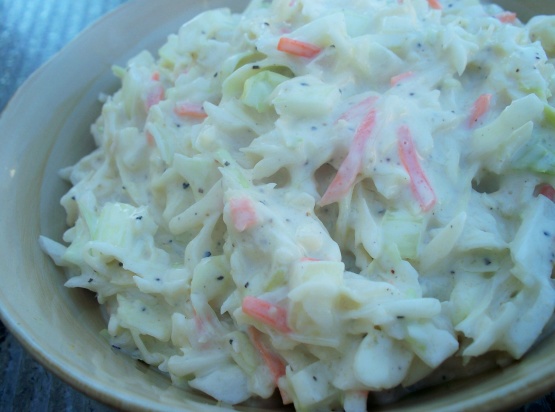 This is one of the only times I ever use Miracle Whip (We are a Hellman's/Best Foods Family.) We just love a good coleslaw and there are a lot of different variations. This particular recipe is from Famous Dave's and one of our favorites.

Lots of potential here. I normally tolerate hot, spicy food well, but this had too much white pepper for my liking. I only used 1/3 cup of sugar (Splenda actually) and next time I will start with 1/2 the amount of white pepper and horseradish and move up from there by taste. Love Famous Dave's (see my recipe for Famous Dave's Roast Chicken Breasts -- yummo!) Thanks for posting!
Toss the cabbage and carrot in a bowl.
Mix salad dressing, sugar, horseradish, dry mustard, white pepper, salt, garlic power and celery seeds in a bowl.
Add to the cabbage mixture and mix well. Chill, covered, until serving time.