Famous Dave's Country Roast Chicken Breasts
Nimz1466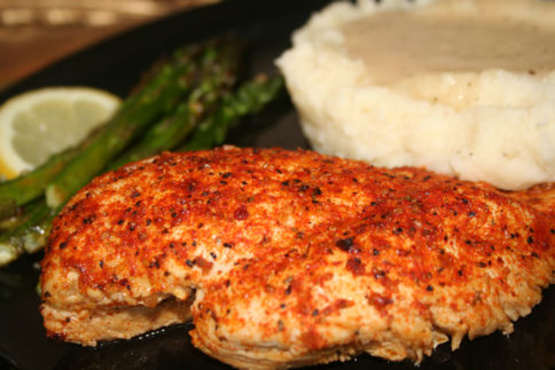 I found this recipe on another website modified it for use with bone-in chicken breasts.

Top Review by grantg
Even for 2 people this recipe is so easy, AND the results are OUTSTANDING... turned out like picture number 5. No need for "ordinary baked chicken" burn out anymore. The seasoning mixture makes a lot... however, 2T each of the 4 seasoning ingredients fits nicely into a 3.25 ounce empty spice jar with plenty of room to shake and blend. (And there seems to be enough to use with 3-4 breasts on two different occasions.) For a little extra zing, we prefer Mrs. Dash "Spicy." Any Mrs. Dash flavor that you prefer should be just fine.

The marinating, seasoning, and cooking method FD uses produces a moist juicy result that few recipes can equal. We did 3 large split breasts (bone-in) @ 375 F. covered with foil for 30 minutes, uncovered for 30 minutes (on convect for the last 15 minutes to crisp up the skin). Tented with the covering foil during the rest time... the thermometer temp peaked @ 170 F.

We'll be keeping this seasoning mix in the cupboard from now on, and I cannot wait to try a whole chicken (in another site recipe... same spices and methodology). We also plan to experiment with boneless skinless breasts for possible use with a supper club group. Shouldn't be too hard to get the cooking time right... just hope that they will be as moist & tasty as split breasts. I cannot help wondering how FD's seasoning and methodology would work on a pork tenderloin, or chops.
Method:.
Roast Chicken Seasoning: Mix all ingredients. Store in a covered container.
Roast Chicken:.
Place the chicken in a 2-gallon sealable plastic bag.
Pour a mixture of the Italian dressing and lemon juice over chicken, turning to coat. Marinate in refrigerator for 3 hours, turning every 30 minutes.
Preheat the oven to 375 degrees.
Remove chicken from bag and drain.
Season generously with 2 Tbls Roast Chicken Seasoning.
Arrange chicken on a rack in a baking pan.
Bake 45 minutes or until a meat thermometer registers 175 degrees.