Famous Barr's French Onion Soup
Dine Dish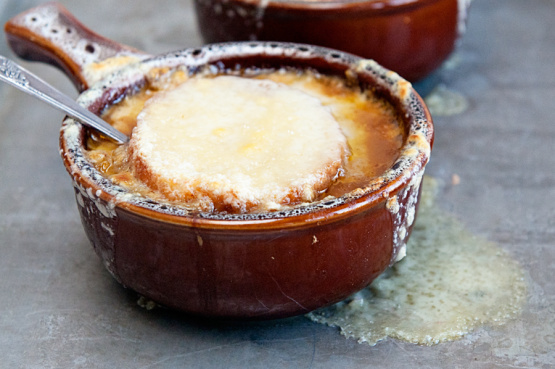 One of St. Louis's favorite soup recipes was recently printed in the Post-Dispatch. I remember going to St. Louis when I was young and my family going into the department store's restaurant for this famous soup. Enjoy! Famous-Barr's French Onion Soup

I have been making this soup for over 20 years and have never found another recipe that even comes close. It is time consuming but the results are amazing. The only thing that I do differently is, instead of mixing the flour with a can of broth, I add the flour to the paprika, salt and papper and make a roux by adding the mix to the tenderized onions. You need to stir constantly because you don't want the mixture to scorch or brown, but you do want to cook it long enough to get the flour taste to disappear. The roux takes about 10-20 minutes of stirring to get all the flour incorporated with the onion liquid. After the roux is ready, slowly start adding your liquid, stirring all the time. The result is a smooth, rich texture. No lumps and no flour taste. If it is too thick for your liking, add another can of broth.

If you're really ambitious...make your own stock! You will notice the difference. No "can" taste, more flavor and healthier too! Enjoy!
Peel onions and slice 1/8 inch thick, preferably in a food processor.
Melt butter in a 6-quart (or larger) stockpot. Add onions; cook, uncovered, over low heat for 1 1/2 hours, stirring occasionally.
(The long cooking time makes the onions mellow and sweet.) Stir in pepper, paprika and bay leaf; saute over low heat 10 minutes more, stirring frequently.
Pour in 6 cans broth and wine. Increase heat and bring to a boil.
Dissolve flour in remaining 1 can broth.
Stir into boiling soup.
Reduce heat and simmer slowly for 2 hours.
Adjust color to a rich brown with caramel coloring, season with salt. Refrigerate overnight. To serve, heat soup in microwave or on stove top.
If desired, pour into ovenproof crocks or bowls.
Top with a slice of bread and a sprinkling of grated cheese. Heat under the broiler until cheese melts and bubbles, about 5 minutes.
Leftover soup can be frozen.